AOV System (Automatic Opening Vent) &
Smoke Ventilation Systems
A range of opening distances to suit the required free vent area for aov windows.
For stairwells and lobby windows
If you are looking for Automatic Opening Smoke Vent (AOV system) and smoke control systems, get in touch with our experienced team today and we can have automatic smoked vents (aov vent) installed for your protection.  Here at Rocburn Limited, we're passionate about making both domestic and commercial buildings as safe as possible, and we pride ourselves in fitting the best smoke ventilation systems around.
In commercial buildings and multi-occupancy buildings, there is a requirement by law to keep escape routes clear and free from smoke to enable both occupants to escape and to allow fire brigade access.
Our smoke ventilation systems are governed by standards such as BS EN12101 and Approved Document B, and they are discreet systems which do not impede access or exit routes.
To learn more about Smoke Ventilation & aov windows the steps we'll take you through as part of your project please read our overview document below.
Smoke Ventilation System & Smoke Extraction Fans from Rocburn
At Rocburn Limited, we are the fastest growing electric and manual window opening, AOV system & ventilation specialist, and we're delighted to be able to offer excellent, bespoke services.  We can supply a range of electric window actuators so that you can achieve the required free vent area as specified by the Fire Officer or Building Control.
Our smoke ventilation systems are available in a range of different opening distances to suit the required vent area; talk to us today about your specifications and we can offer you aov roof vents, 24v chain, linear actuators for stairwells or lobby windows.
Whatever your needs, we can help you find the best smoke ventilation systems & automatic opening smoke vent.
Call Us Now For Smoke Ventilation Systems
If you are looking for an AOV system or smoke control systems, contact our team now as professional smoke ventilation system manufacturers we can provide you with the highest quality AOV system.  Smoke ventilation systems are critical to your safety so it's important to get the correct products to suit your building requirements.  We will obtain as much information as possible in order to advise you on the best smoke control systems for your building.
Please note: building plans, window schedule and other specific requirements will be very useful to our team in helping you choose the right smoke ventilation systems.
Single Zone AOV Windows Control Panel
Typically Used For Controlling An AOV Window
Actuator In The Stairwell Of Flats
Digital Smoke And Natural Ventilation Control
Programmable Ventilation Panel – For the control and operation of automatic opening windows, roof vents and smoke dampers
For smoke Ventilation, day to day ventilation, optional temperature, rain, wind and CO2 control. inputs for 0-10v graduated control via BMS system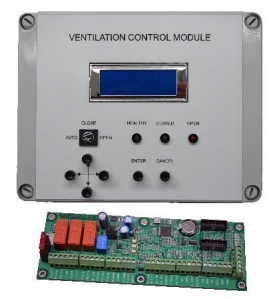 What is an AOV Window?
An AOV is short for "automatic opening vent" the AOV system was designed to create automatic air openings within an environment for smoke ventilation and safety.
Why do I need an AOV System?
An AOV system is used to control the ventilation when a fire occurs within a building. This is a mandatory building regulation which was made due to results of smoke inhalations when a fire or incident occurs, causing the automatic smoke vents to open.
When the detector or call point is activated, the AOV control system will open the actuators, vents or windows which creates ventilation. This clears the smoke within a building so people can leave.
What AOV system will I need to fit?
First you need to work out the building and how many zones you have which will need automatic opening vents for each item. Please follow our AOV system example below on how we would work out what a zone is:
1. You have 2 windows and 1 roof vent on the same floor when the alarm is triggered.
Due to the one floor and the multitude of items that need automatic openers, this is classed as one zone. First, you will need to add an AOV actuator which triggers the window and vents to automatically open when a fire alarm is triggered. If there is already an alarm system then there may be smoke detectors fitted you can use an AOV single zone to your fire system, that will help trigger the AOV actuators when the alarm is triggered. They will automatically close when the alarm is reset.
2. You have 3 floors with windows and vents on each floor.
This would be classed as 4 zones, you can use an aov multi zone panel which has options to open aov actuators on certain floors. Under this the vents will open on only the floors that the alarm is triggered, creating a chimney effect clearing the smoke. If zone 1 was triggered the other zones would also be triggered and a roof vent would open. All windows and vents will need actuators to link to your new or existing fire alarm.
Need more help with your AOV system?
Contact us now to find out exactly what you will require.
Customers also search for: AOV system, aov window, aov smoke vent, automatic smoke vents, aov vent, aov control panel, smoke vent window, smoke vent actuator, aov ventilation, aov roof vents, smoke ventilation system, smoke extraction fans.