Window Openers For Large Roof Vents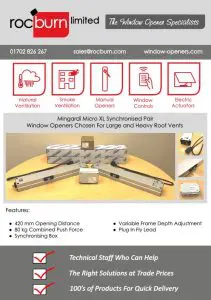 Why do I need two openers on one roof vent?
To give an example, while working with one of our roof light customers we selected some Mingardi Micro XL window openers to automate eight large and heavy roof vents in a school in Ilford.
These roof vents each weigh approximately 100 kg and have an opening edge which is 2050mm wide
We chose the Mingardi Micro XL window openers because each one has a 400N force and large 420mm opening distance.
The openers were coupled with the synchronising control box, which ensures both openers work together and at the same speed.
The combined pushing force for both window openers together is 80 kg which exceeds the required 50 kg needed
---
How do I calculate the force needed to open my roof vent?
For roof windows or roof vents the calculation you would use is:
Force = 0.54 x Window Weight
In the example we are using this would mean the force required would be 54 kg
Please note this calculation is not the same as top hung or bottom hung windows on a vertical wall where you need to take into account the height of the window and the distance you are pushing it as well
Why do I need two window openers on my roof vent?
The other aspect is the width across the opening face of the window.
When a window is wide and heavy you should use two or more window openers, this adds stability and balance pushing force as well as better compression when the window or roof vent is closed.
It is important to have some communication between window openers when you use more than one on the same opening.
This protects the roof vent from damage or twisting while opening, and if one of the window openers stops so will the other one
If you have a large or heavy roof vent please get in touch with one of our team to discuss the best options
If you want help choosing the right product or solution, our technical sales staff are here to help.
Why not call us today on 01702 826 267, or click below to submit an enquiry.
Related Posts
It is important to have a well-ventilated home for energy efficiency and property maintenance reasons. Adequate airflow in the home is also vital for health and safety. Here are the four most important reasons why ventilation is essential for your home.