Window Master WMB 811 WMB 812
Call us for latest pricing
Brand: Window Master | Manufacturer Part numbers: WMB 811 / WMB 812
This product is suitable for:
Top-hung windows
Bottom-hung windows
Skylights, roof windows
Pivot frames
Cupolas
Specifications at a glance:
Locking force: 2000 N
Operating Voltage: 19-32 VDC
Protection Class: IP 20
Voltage supply: 24v DC
Colours Available:
| | | | |
| --- | --- | --- | --- |
| | | SAA | |
for smoke and comfort ventilation
locking actuator for windows with espagnolette system
to be surface mounted or concealed
discreet and slim line design
cable connection hidden in the actuator cavity – no need for junction box
to be used together with ±24V control units or control units with MotorLink®
used together with window actuators with MotorLink®
3 speeds when using control unit with MotorLink®
soft close
the electronics in this actuator can be programmed to suit specific requirements – i.e. pressure- and traction force, stroke – with the WAT 100 programming box, also possible following installation
built-in electronic load switch-off/end stop
electronic actuator with micro controller
easy mounting
the actuator is UL certified
Compact 24 VDC espagnolette, which automatically locks/ opens the espagnolette system on the window, in such a way that the CE approval of the window is maintained. This unit can also be used should increased protection against weather or break in be desired.
Closing force of 2000N per espagnolette.
The espagnolette is fitted on windows with an espagnolette system without handles, together with electric window actuators with MotorLink®. The espagnolette can be surface
mounted on or concealed in aluminium, timber or plastic window frames.
The espagnolette system can be set in two positions: locked/open.
The espagnolette bracket can be fitted in two different positions and thereby adjusted to the window profile. The bracket is supplied with the espagnolette.
Brand
Window Master

Product Applications
This product is suitable for:
Top-hung windows
Bottom-hung windows
Pivoting frame windows
Roof windows
Cupolas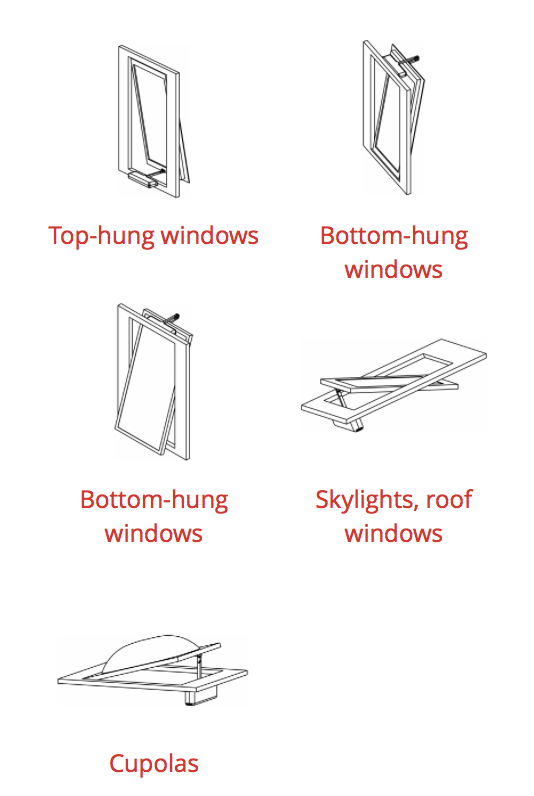 Technical Details
500N (programmeable)
2000N (break in force)  
18mm (programmable 1-20mm)
depending on the connected window actuator (min. 7sec and max. 20sec)
19 – 32 VDC (full load)
max. 1A 
 -5°C – +74°C, max. 90% relative humidity (not condensing)
 ED 40% (2min. per 5min.)
 zinc housing protected against corrosion
 powder paint RAL 9006 (grey), other colours against additional cost
285 x 30 x 42mm (W x H x D)
100mm grey 3-core 0.34mm2 silicone cable with connector 
 certified accordingly to UL 325 and CAN/CSA-22.2 No. 247-14
 B300 tested according to EN 12101-2:2003
 11,000 open and close movements, full stroke
 espagnolette with 100mm cable with fast-in /fast-on stick and espagnolette bracket