Planning and Installing Electric window openers
We sell a variety of electric window openers tailored for different scenarios. Whether you're about to get started start, retrofitting, or replacing an existing installation, we'll be more than happy to guide you.
What do I need to consider before installing electric windows openers?
We recommend discussing your requirements with us first. That way we can help select the best window opener option, but as a guide you should consider the following.
How many windows are you looking to add electric window openers to?
The size and weight of your windows, each actuator will have it's own limits, you may even need two actuators per window
Do you want to operate all the windows together or separate them into multiple zones/groups?
What kind of control options you want? (wall switch, remote control, or temperature control)
Do I need to consult a qualified electrician?
If you are installing mains powered electric window openers it's also important to contact a qualified electrician to plan your cable routes and cabling types. As a rule, mains voltage actuators have a 3-core fly lead which is directly wired into the actuator body. The length of the lead will depend on the opener you purchase but will usually be between 1 and 1.5 meters.
It's best to wire this lead to an accessible junction box near by your window. This will avoid digging out cables from inside the wall should the actuator need to be replaced in the future.
How to wire a mains electric window opener?
The majority of the mains actuators we supply will have a 3-core fly lead coming from the body of the opener. However it is very important that you confirm the specific wiring your opener has by consulting the supplied documentation. We have explained in more detail the most common wiring setups below but if your electric window opener differs please do not follow these examples. We're available for after sales and installation support during work hours so give us a call if you're unsure.
Typically the 3-core cable will consist of a permanent neutral and 2 switched lives. Most electric window openers are double insulated so don't require an earth connection, but this isn't always the case so contact us if unsure. The power to the switch or control panel will need to be protected by a fused spur.
The location of your controller should be considered. If you are using a single gang switch or temperature control panel this would normally be at standard switch height. If you have a remote receiver panel this could be located near your windows, concealed in a cupboard, or even in a loft space.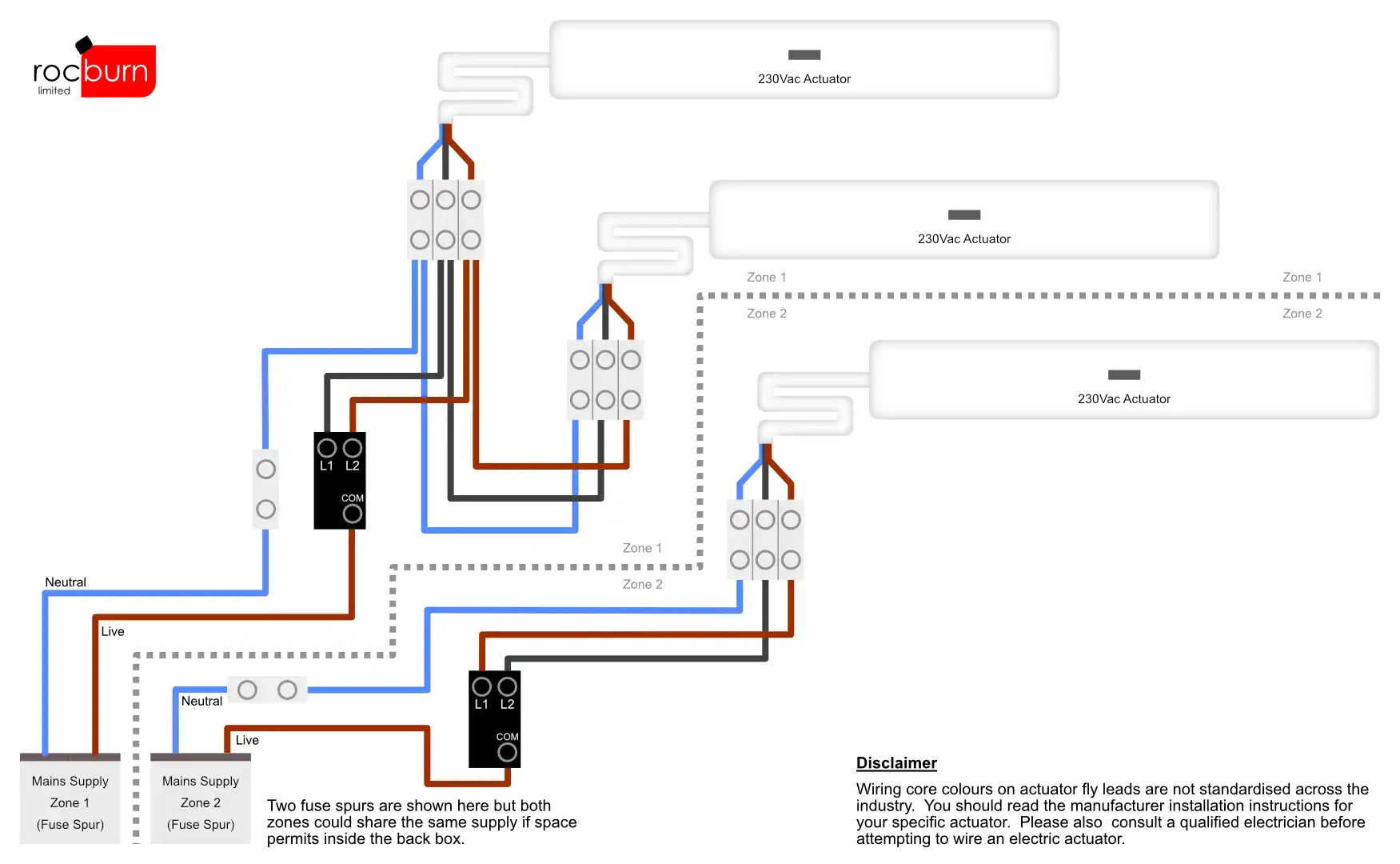 The above wiring diagrams demonstrate the general wiring for mains actuators. The number of actuators in each zone is limited only by the rating of the switch and the cabling installed. Additional actuators are added to the zone, simply wiring them in parallel.
How to wire a 24v DC electric window opener?
Unlike the 230Vac actuators, DC powered ones typically only have 2 wires. Some will have extra wires which are used for cross opener/controller communication and must not have voltage applied to them.
Always consult the installation instructions and get in touch with us if you have doubts. Applying a constant voltage to the correct wires will cause the actuator to drive in one direction, reversing the voltage polarity will drive in the opposite direction.
Because of this need to reverse the polarity, a controller of some sort is needed. Additionally, the mains AC voltage needs to be stepped down and converted to 24Vdc. Generally, controllers will perform this step down for you.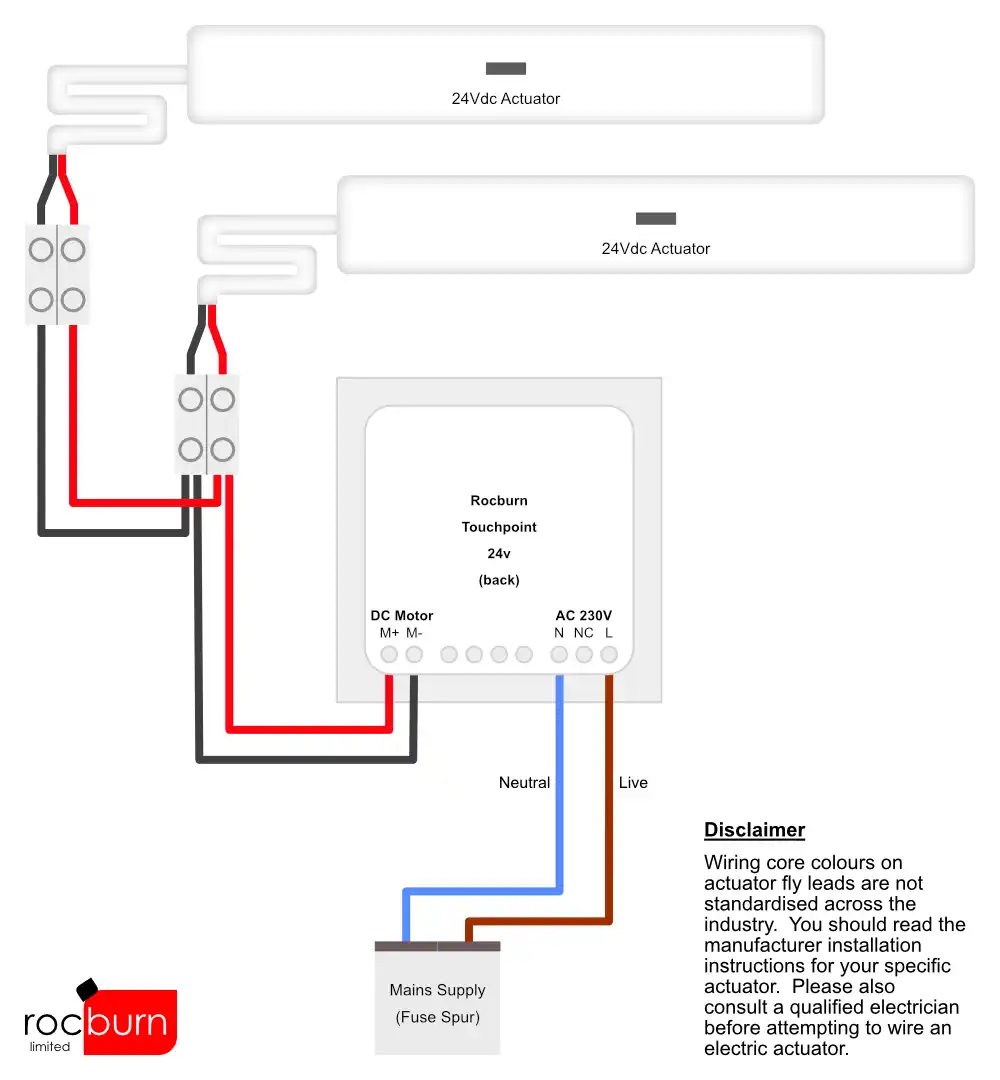 This wiring diagram details the connection of the actuators and supply to a Rocburn Touchpoint 24v switch. In this case the number of actuators that can be in the zone is limited by the load rating of the control panel. For the Touchpoint this is around 2 ACK4s. Typically 24v actuators have a higher current/amp draw than mains voltage equivalents.
In conclusion, planning and installing an electric window opener involves careful consideration of your requirements and knowledge of the wiring setup. We highly recommend discussing your requirements with us first and consulting a qualified electrician before embarking on the installation. Our experts are available to provide guidance and support throughout the process.
If you want help choosing the right product or solution, our technical sales staff are here to help.
Why not call us today on 01702 826 267, or click below to submit an enquiry.