Single Zone Smoke Ventilation System – Aldershot
Location: Raglan Close, Aldershot
Date: September 2017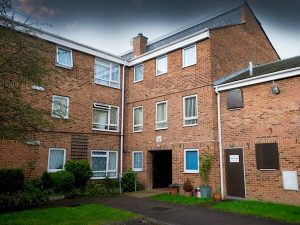 This is a small single zone smoke vent system installed in the stairwell of some apartments in Aldershot.
The windows were not wide enough to use the standard fitting style of the chain actuators, so we worked with the installer to offer a Jamb mounted solution to suit.
Jamb Mounting Actuators
Some window actuators can be mounted to the side of a vent, to drop the window down in a certain way (similar to a drawbridge). This allows you to achieve a larger opening distance on a narrow vent which will give you the best free vent area possible.
The method involves fitting a synchronized pair of window openers to the left & right sides of the vent. In this case they were 1000mm stroke twin chains.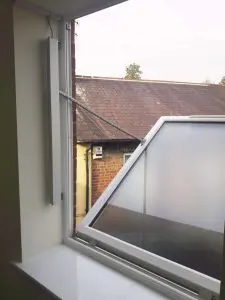 1000mm Twin Actuator
1000mm Twin Actuator
Smoke Ventilation Equipment Supplied:
1x Synchronized Pair Of Twin Chain Actuators – 1000mm Stroke
1x Single Zone Stairwell AOV Control Panel (Including Battery Backup)
1x Fireman's Override Switch
3x Smoke Detectors Heads & Relay Bases
For advice please contact one of our sales team either using the form below, by email [email protected] or calling us on 01702 826 267.
Firemans Override Switch
Smoke Detector
Single Zone AOV Panel
If you want help choosing the right product or solution, our technical sales staff are here to help.
Why not call us today on 01702 826 267, or click below to submit an enquiry.
Related Posts
Under the challenging economic climate of 2021 & 2022 Rocburn were tasked with specifying & supplying the smoke & comfort ventilation system for an extension project providing new student accommodation in Tooting (South London).