Traditional Window Openers
Traditional ScrewJack Window Winders
The effortless way to open your conservatory windows.
Just fit a winder pole into the screw jack and wind it, and the window will open.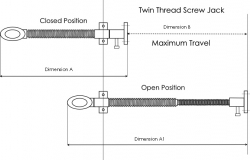 Screw Jack With Handle
If your window is within reach you could also consider installing a manual screw jack, that comes with a small built on opening handle.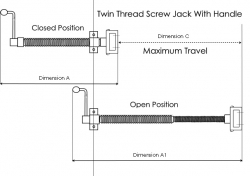 Brass & Chrome Telescopic Window Winders
Satin Chrome Finish Single and Twin Thread Screw Jacks
Bracket Options To Suit Timber and uPVC Vents
New Brackets For Skylight Window Openers such as Velux & Fakro
New Brackets To Give Clearance When Using A Screwjack On A Skylight Window With A Cill
Call Us For Advice On The Best Bracket Options To Suit Your Window Opening Needs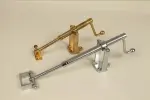 Traditional Window Opener Poles
We have a choice of sunroom or conservatory window winder poles made from either solid brass or aluminium.
Designed to easily crank open your window screw jacks.
These window winder pole handles come in a variety of finishes and sizes to suit all window opening requirements.
Our winder pole bracket just adds that finishing touch to your conservatory, and is a practical way to store your winder pole when not in use.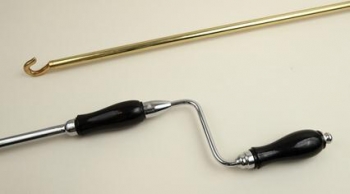 Single Thread Screw Jacks
A range of popular single thread screw jack openers in brass and chrome finish
Wooden Opener Poles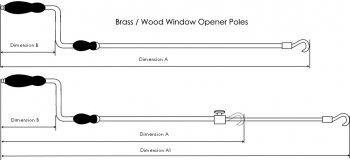 Aluminium Opener Poles
Popular Adjustable Opener Poles
Fit In The Cupboard – Extends Up To 3mtrs Long
Call us for more information or download our
A Range Of Poles and Openers To Suit Your Needs